The tipping point (revisited): 73,000 publications
---
(click to enlarge)
Summary: The Bill and Melinda Gates Foundation appears to be funding misrepresentations of what serious scientists know about biophysically constrained viral latency, as if no one knew that the effect of virus-driven energy theft in a computer processing unit (CPU) is the same as the effect of bacteriophages on the human brain.
The countdown that led scientific creationists in South Korea to force the denuclearization of North Korea started 2 years ago (today). 5, 4, 3, 2,
1 Predicting microRNA-disease associations using label propagation based on linear neighborhood similarity (May 10, 2018)
…case studies also demonstrated our method's outstanding performance for inferring undiscovered interactions between miRNAs and diseases, especially for novel diseases.
The links from microRNAs to all diseases has been detailed in the context of links from energy-dependent changes in angstroms to ecosystems in all living genera. Bacteriophages (viruses in bacteria) steal the quantized energy that links the degradation of messenger RNA to all pathology. The quantized energy is biophysically constrained by autophagy, which links the innate immune system of bacteria to healthy longevity in all living genera.
See: Nutrient-dependent pheromone-controlled ecological adaptations: from angstroms to ecosystems (2018)
This well funded source of obfuscation was made possible by a grant from the Bill and Melinda Gates Foundation. It takes my entire life's works and twists the established facts for a target audience of people who have been taught to believe in mutation-driven evolution.
The Deadliest Being on Planet Earth – The Bacteriophage video (May 13, 2018) .
A war has been raging for billions of years, killing trillions every single day, while we don't even notice. This war involves the single deadliest being on our planet: The Bacteriophage.
Claims about the evolution of bacteria and the evolution of viruses are placed into the context of a horrid misrepresentation of top-down causation and phage-therapy for Pseudomonas aerugenosa.
See for comparison: The Darwin Code / When Genes Go Walkabout (2004)
Perhaps the most intriguing method of gene swapping in bacteria is the bacteriophage , or bacterial virus. Bacteriophages—phages for short—can either kill large numbers of host bacteria, reproducing rapidly, or
lie dormant in the bacterial chromosome until the time is right for expression and release.
Charles Darwin was wise enough not to pin down what he could not see or know, and so, he did not overly pontificate on how the changeability of nature was encoded, and how that code could be altered in its details.
All the facts about how bacteriophages are linked to all virus-driven pathology have been removed from The Deadliest Being on Planet Earth – The Bacteriophage. Many of the facts were known at the time Sinclair Lewis published the Pulitzer Prize-winning novel "Arrowsmith" in 1925, which also was the year of the Scopes Trial in Dayton, Tennessee.
Arrowsmith could have been used to inform a target audience about the dangers of bacteriophages. Instead, the Scopes Trial led to use of de Vries 1902 definition of mutation in attempts to link mutation-driven evolution to all biodiversity on Earth outside the context of the physiology of reproduction and biophysically constrained viral latency.
See also: John M. Greally @EpgntxEinstein thought that he and I were "on the same side" until I mentioned that "serious scientists" do not use definitions to link quantized energy-dependent changes to biophysically constrained viral latency in all living genera.
Greally wrote: "Impressive for a field that can't define these terms"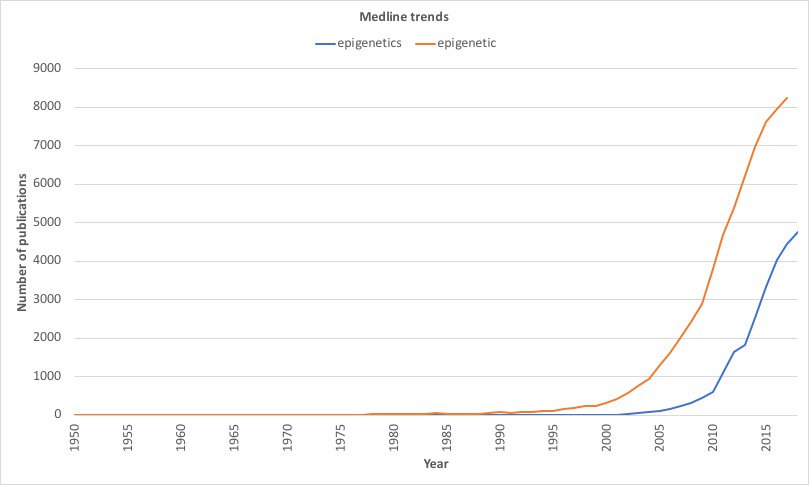 See our section on molecular epigenetics in our 1996 Hormones and Behavior review: From Fertilization to Adult Sexual Behavior
As of May 16, 2018, more than 73,000 indexed published works link epigenetically-effected changes in microRNAs to biophysically constrained viral latency, which prevents all pathology in all living genera.
See: microRNA and Medline trend for microRNA
Number Year     %000
   12186 2017  953.530
   11925 2016  944.140
   11906 2015  949.664
   10077 2014  839.070
    8548 2013  745.722
    6813 2012  627.341
    5225 2011  513.104
    3967 2010  421.805
    2587 2009  295.386
    1773 2008  212.213
    1082 2007  137.815
The trend in publications that mention microRNA links 1082 papers published in 2007 to 12186 papers published in 2017 (average 1000 each month compared to 1000 in the year 2007). Taken together, all 73,000 published works on microRNAs link quantized energy as information to biophysically constrained viral latency via what is known to serious scientists. Why is John M. Greally focused on the definition of "epigenetic?"
For a historical perspective on the number of publicatons that mention microRNA or microRNAs, see also: The tipping point (revisited): 70,000 publications
The tipping point (revisited): 69,000 publications
The tipping point (revisited): 68,000 publications
The tipping point (revisited): 60,000 publications
5,
4,
3,
2,
The tipping point (revisited): 50,000 publications May 16, 2016
The countdown that led scientific creationists in South Korea to force the denuclearization of North Korea started 2 years ago (today).
For evidence of what Richard P. Feynman referred to in the context of human idiocy, see: A user's guide to the ambiguous word 'epigenetics' (2018)
The term 'epigenetics' is currently ambiguous, over-encompassing and uncoupled from its historical roots. This reflects interests and insights that have developed over time. In this Comment, I propose that we stop using the word in isolation, and be explicit about which definition we are using to avoid ambiguity in its scientific and public use.
So far as I know, serious scientists have never used the term 'epigenetics' outside the context of what is known about energy-dependent RNA-mediated DNA repair
See for examples: Nutrient-dependent Pheromone-Controlled Ecological Adaptations: From Angstroms to Ecosystems (2014)
I linked one quantized energy-dependent base pair change from fixation of one RNA-mediated amino acid substitution via endogenous RNA interference and DNA repair in the mouse-to-human model of how the EDAR V370A variant biophysically constrains viral latency.
See also: Energy as information and constrained endogenous RNA interference
Feedback loops link quantized energy as information to biophysically constrained RNA-mediated protein folding chemistry. Light induced energy-dependent changes link angstroms to ecosystems from classical physics to chemistry/chirality and to molecular epigenetics/autophagy. The National Microbiome Initiative links microbial quorum sensing to the physiology of reproduction via endogenous RNA interference and chromosomal rearrangements. The rearrangements link energy-dependent fixed amino acid substitutions to the Precision Medicine Initiative via genome wide inferences of natural selection.
This detailed representation of energy-dependent natural selection for codon optimality links biologically- based cause and effect from G protein-coupled receptors to RNA-mediated amino acid substitutions and the functional structure of supercoiled DNA. Energy-dependent polycombic ecological adaptations are manifested in supercoiled DNA. Chromosomal inheritance links the adaptations from morphological phenotypes to healthy longevity via behavioral phenotypes.
For contrast, virus-driven energy theft is the link from messenger RNA degradation to negative supercoiling, constraint breaking mutations, and hecatombic evolution. The viral hecatomb links transgenerational epigenetic inheritance from archaea to Zika virus-damaged DNA, which typically is repaired by endogenous RNA interference and fixation of RNA-mediated amino acid substitutions in organized genomes
See also: Virus-mediated archaeal hecatomb in the deep seafloor (2016)
The Bill and Melinda Gates Foundation appears to be funding misrepresentations of what serious scientists know about biophysically constrained viral latency, as if no one knew that the effect of virus-driven energy theft in a computer processing unit (CPU) is the same as the effect of bacteriophages on the human brain.
---
---
Want more on the same topic?
Swipe/Drag Left and Right To Browse Related Posts: